NADDOD InfiniBand Cables & Transceivers Products

Abel
InfiniBand Expert
Dec 12, 2022
AI and Big Data related applications have widely used InfiniBand networks in recent years to achieve high-performance cluster deployments. InfiniBand network technology has been used by the majority of the TOP 500 supercomputers since 2014. The introduction of InfiniBand cables and transceivers is intended to improve the performance of HPC networks even further by meeting the needs of HPC networks for high bandwidth, low latency, and highly reliable connections between InfiniBand elements. InfiniBand cables and optical transceivers provided by NADDOD facilitate efficient interconnection between InfiniBand compute and storage devices.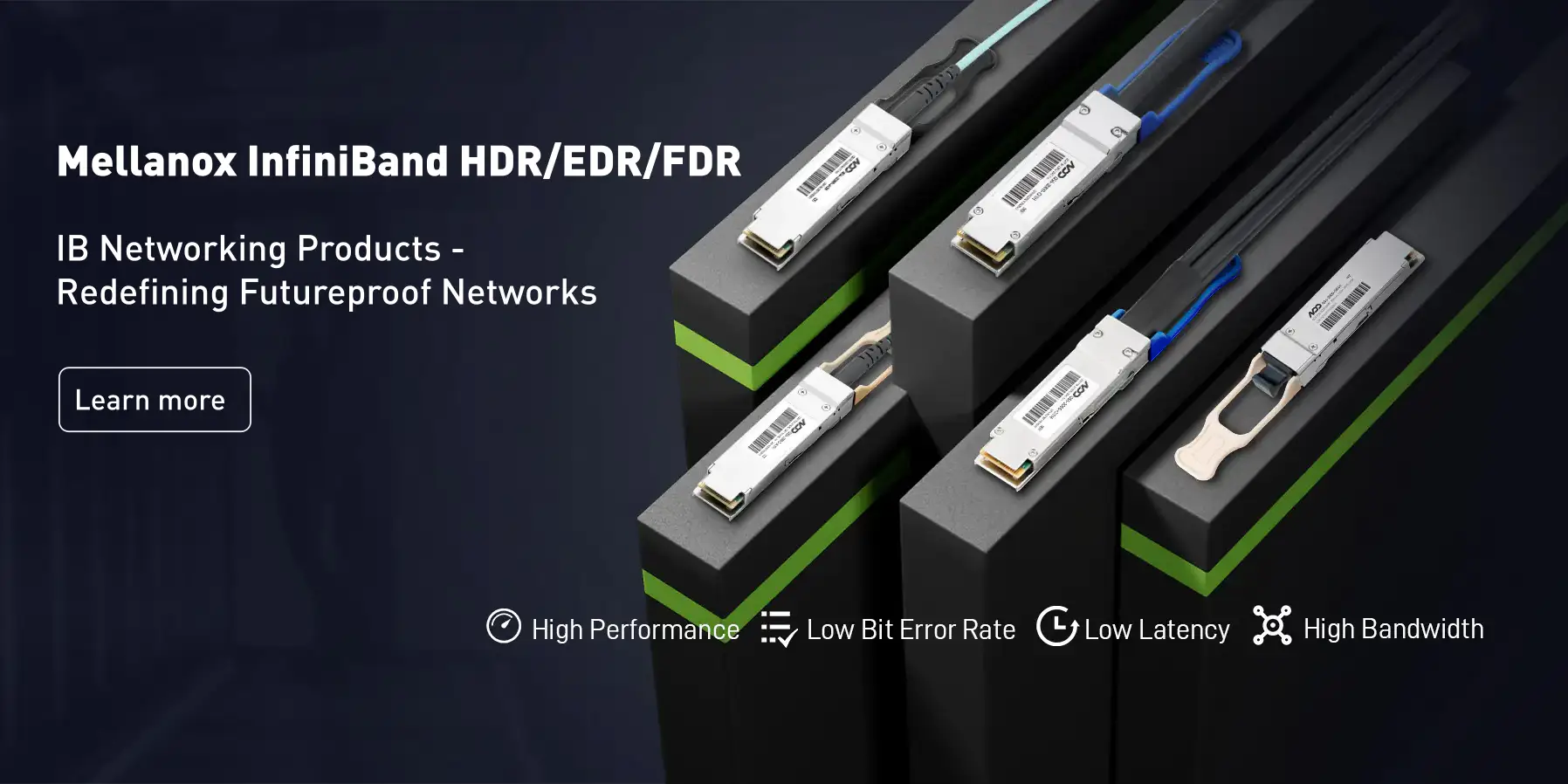 NADDOD InfiniBand Cables and Transceivers
Perfectly alternative to NVIDIA Mellanox LinkX cables and modules, NADDOD InfiniBand optical cables and transceivers are designed specifically for InfiniBand HDR/HDR100, InfiniBand EDR, and InfiniBand FDR systems and support transmission distances up to 80km. For short-distance connections up to 100m, NADDOD's InfiniBand 200G QSFP56 AOC/DAC, 100G QSFP28 AOC/DAC and 56G QSFP+ AOC/DAC cables, and multimode SR4 QSFP56/QSFP28 transceivers are the most popular and cost-effective options for 200G/100G/56G interconnecting within or between adjacent data center racks. For longer distances connecting InfiniBand Fat-Tree, Leaf-Spine, Torus, Dragonfly or Hypercube InfiniBand network clusters, NADDOD provides InfiniBand transceivers up to 80km to meet the needs of such long-distance transmission, such as 200G QSFP56 LR4 (10km), 100G QSFP28 LR4 (10km), 100G QSFP28 ZR4 (80km), etc. Here are some links of the detailed introduction to NADDOD compatible 200G QSFP56 HDR, 100G QSFP28 EDR and 56G QSFP+ FDR InfiniBand products:

1. NADDOD 200G InfiniBand HDR QSFP56 Cable Products Introduction
2. NADDOD 200G InfiniBand HDR QSFP56 Optical Transceiver Products Introduction
3. 200G QSFP56 InfiniBand HDR Optics Products Application Scenarios
4. NADDOD 200G QSFP56 InfiniBand HDR AOC vs OEM
5. NADDOD 100G QSFP28 InfiniBand EDR Products Introduction
6. NADDOD 56G QSFP+ InfiniBand FDR Products Introduction
NADDOD InfiniBand Cable and Transceiver Highlights
NADDOD InfiniBand products offer a wide range of advanced features and benefits. The key benefits of NADDOD InfiniBand fiber cables and transceivers are described below.
High Bandwidth, Low Latency
When testing the bandwidth and latency of the InfiniBand cable under the Linux system, NADDOD InfiniBand products' high bandwidth and low latency show no difference compared with Mellanox InfiniBand original cables. Our bandwidth tests and latency tests in the InfiniBand network environment are verified by NVIDIA/Mellanox equipment, greatly accelerating the data center and high-performance computing (HPC) applications.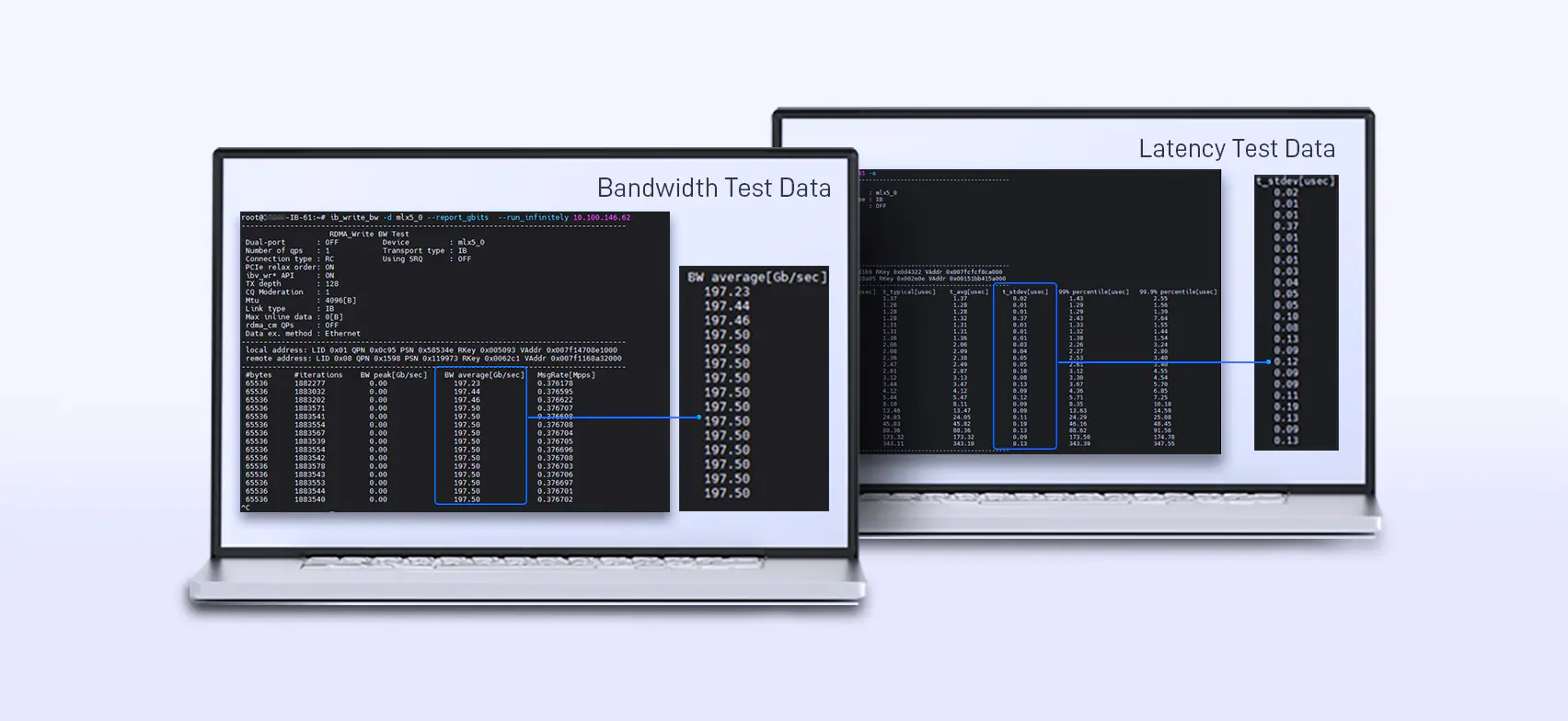 Low BER
Because InfiniBand achieves the highest level of data integrity by performing cyclic redundancy checks (CRC) at every hop and end-to-end on the fabric, the InfiniBand cables and transceiver modules provided by NADDOD ensure proper data transmission with zero packet loss during transmission, beyond the IBTA industry bit-error-rate (BER) standards.
Efficient
InfiniBand supports advanced reliable transport protocols such as Remote Direct Memory Access (RDMA), and with NADDOD InfiniBand Mellanox/HPE compatible transceivers and cables, it can increase the efficiency of customer workload processing.
Reliable and Stable Connectivity
InfiniBand implements a fully redundant and lossless I/O structure, automatic path failover and link layer multipath capability with NADDOD InfiniBand products to meet high levels of availability.
Good Compatibility
NADDOD provides InfiniBand connectivity products that have been tested in real systems and fully meet the demanding requirements of InfiniBand for optical connectivity, with good stability and high reliability, and can be perfectly adapted to NVIDIA Mellanox InfiniBand network switches and NICs.

Diagnostic Capability
NADDOD InfiniBand transceivers and AOC & DAC cables come with DDM digital diagnostic capabilities that allow digital diagnostic monitoring of voltage, temperature, transmit/receive power and bias, allowing real-time visibility into the product's operating status, and rigorous product testing to ensure the best installation experience, performance and durability.

With these features, NADDOD InfiniBand cables and transceivers are the best choices for a variety of networking applications, such as high concurrency and high-performance computing application scenarios, web 2.0, enterprise, storage, autonomous vehicles and artificial intelligence.

Related Resources:
What Is InfiniBand and How Is It Different from Ethernet?
NADDOD High-Performance Computing (HPC) Solution
Case Study: NADDOD Helped the National Supercomputing Center to Build a General-Purpose Test Platform for HPC
NADDOD HPC InfiniBand and Ethernet Products and Solutions
InfiniBand Trend Review: Beyond Bandwidth and Latency
Active Optical Cable Jacket Explained: OFNR vs OFNP vs PVC vs LSZH?