Introduction of 56G FDR Solution

Abel
InfiniBand Expert
Feb 3, 2023
To meet the high I/O throughput requirements in HPC, enterprise data center and cloud computing environments, the next generation of high-speed 56Gbps FDR (Fourteen Data Rate) technology has been widely used and the demand for high-speed cables has grown. 56G FDR high-speed cables are suitable for supercomputers with InfiniBand-based SDR, DDR and QDR applications. 56G FDR high-speed cable is suitable for supercomputer and InfiniBand-based SDR, DDR and QDR applications, and is a solution for data centers and high-performance computers. This article will give you a brief introduction to the 56G FDR high-speed cable solutions offered by NADDOD.


NADDOD 56G FDR High Speed Cable Product Description
Passive DAC Cables

56G QSFP+ DAC Passive High Speed Cables are high-speed dual-axle cables with QSFP+ connectors on both ends, each channel capable of transmitting data at rates up to 14.025Gb/s, providing robust connectivity for cutting-edge 56Gb/s InfiniBand. These cables meet SFF-8685 specifications and each QSFP+ port includes an EEPROM providing product information that can be read by the host system. They support commercial grade operating temperatures of 0-70 degrees Celsius, 3.3V operating voltage, and can provide transmission distances of 1m, 2m, 3m, 4m,5m, and are compliant with SFF-8436 and ROHS specifications.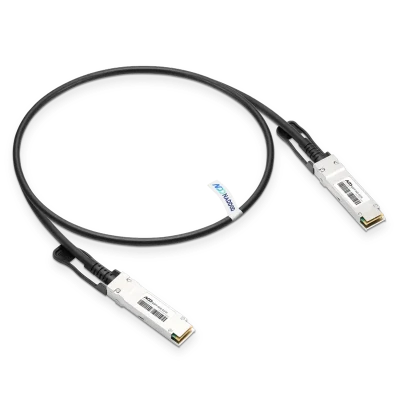 Active AOC Cable

The 56G QSFP+AOC active optical cable is a highly efficient integrated optical cable assembly product (quad full duplex) designed for short-haul data communications and interconnect applications, where each channel is capable of transmitting data at rates up to 14.025Gb/s to provide 56Gb/s. Maximum link lengths of 100 meters are supported on OM3 multimode fiber and 150 meters on OM4 multimode fiber. Built-in 850nm VCSEL laser, PIN array, integrated driver and receiver chip, and support for standards including InfiniBand FDR, QSFP MSA and IEEE P802.3ba 40GBASE-SR4.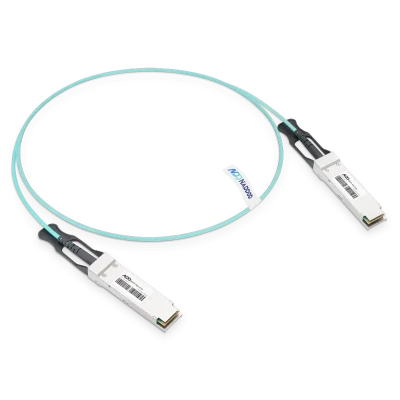 Application Scenarios

By providing low latency, high bandwidth, low CPU overhead, and remote direct memory access (RDMA), InfiniBand has become the most deployed high-speed interconnect, replacing proprietary or low-performance solutions in a wide range of applications such as high-performance computing (HPC), artificial intelligence, and hyperscale cloud infrastructure. Since infiniband mainly uses the spine-leaf architecture, the 56G FDR cables provided by NADDOD are mainly used for switch-to-switch interconnects, or switch-to-server or storage interconnects, as shown in the following figure.



| Number | Product | Category | Distance | Cost |
| --- | --- | --- | --- | --- |
| ①/② | QSFP-56G-CU*H | DAC | ≤5m | Low |
| ①/② | QSFP-56G-A*H | AOC | 1≤distance≤150m | Medium-high |
Solution Advantages
Network Bandwidth

InfiniBand FDR link speeds have increased to 14Gb/s per channel and 56Gb/s for 4-channel ports (a more than 70% increase in data rates compared to previous generations of InfiniBand. Like PCIe Gen-3 based servers, InfiniBand FDR provides maximum throughput from the server to the network, enabling higher application performance and scalability.

Network Latency

InfiniBand FDR interconnect solutions (based on ConnectX-3 and SwitchX) build networks that accelerate data transfer by reducing fabric latency. The reduction in latency enables faster communication and synchronization between applications and improves cluster performance and overall return on investment.

Network Efficiency

The link encoding of InfiniBand FDR is modified from the 8bit/10bit used in InfiniBand SDR, DDR and QDR to 64bit/66bit, which makes the network more efficient for data center servers and storage. By reducing the bit rate between the control and data bits sent in the network, the connection efficiency of data center servers and storage devices can be improved.

Network reliability and data integrity (FEC)

The InfiniBand FDR FEC mechanism leverages redundancy in 64/66-bit encoding for error correction. Capable of working independently on each link without bandwidth loss, this new mechanism provides superior network reliability, especially for large-scale data centers, high-performance computing, or Web 2.0 hubs, providing a predictable low-latency characteristic.

Low power consumption for green data centers

InfiniBand FDR reduces network-related power consumption, resulting in significant infrastructure and maintenance cost savings. In addition increasing the bandwidth of the entire network makes InfiniBand FDR the most cost-effective and efficient solution. It has enhanced fabric consolidation and allows multiple applications (IPC, management, storage) to share the same network without compromising performance.

Summary
NADDOD InfiniBand FDR high-speed cables provide a high-performance, scalable, efficient and reliable interconnect solution in connecting servers and storage devices. The benefits in performance, cost effectiveness and scalability improve application productivity and optimize return on investment, making it the best interconnect solution for high performance and data center clusters.