NADDOD 200G InfiniBand HDR AOC vs OEM

Abel
InfiniBand Expert
Aug 1, 2023
Data center traffic has been growing, and with the rapid growth of the network, the demand for bandwidth rates is increasing. The conventional low rate can no longer meet the use of data centers, and low rate upgrade is an inevitable trend. In recent years, AOC has continued to upgrade to higher rates, with new products being launched for 200G and 400G AOC, with 200G AOC being the most popular product in recent years. This article will focus on the 200G HDR AOC cable provided by NADDOD.



Figure 1 200G QSFP56 to QSFP56 InfiniBand HDR AOC cable
1. NADDOD 200G HDR AOC product introduction
The Q56-200G-A*H is a QSFP56 VCSEL-based active optical cable (AOC) with longer transmission distances than data center passive copper cables, available in 3m, 5m, 7m, 10m, 15m, 20m, 30m, designed for 200Gb/s infiniband HDR systems. Because the AOC is hot-swappable, it is easy to install and replace, and enables higher port bandwidth, density and configurability at a lower cost, and reduces data center power requirements. However, AOCs are not suitable for cross-cabinet cabling because they carry modules on both sides, so they are generally used in interconnect scenarios where the distance is less than 30 meters.
2. OEM 200G HDR AOC Product Description
Designed for links over OM3 multimode fiber, the 200G QSFP56 active optical cable contains four multimode fiber (MMF) optical transceivers per end, each with data rates up to 50 Gb/s. This active optical cable is compliant with IEEE 802.3, SFF-8665, SFF-8636, QSFP56 MSA, and InfiniBand HDR. this direct connect AOC cable is suitable for short distances and provides flexibility for in-rack and cross-rack connectivity. At the same time, the active optical cable enables efficient system airflow, which is critical in high-density racks.
3. Comparative analysis
4. Advantage Highlights
High Bandwidth
In terms of parameters, the cable provided by NADDOD occupies certain advantages in terms of bandwidth when compared with the three OEMs, as shown in Figure 2 below. Under linux system, you can test the write bandwidth by command, the bandwidth is very stable at 197.5G, so there is no difference in bandwidth with mellanox original cable test; at the same time, in terms of latency (as shown in Figure 3 test results), it has lower latency, which greatly accelerates many data center and high-performance computing (HPC) applications.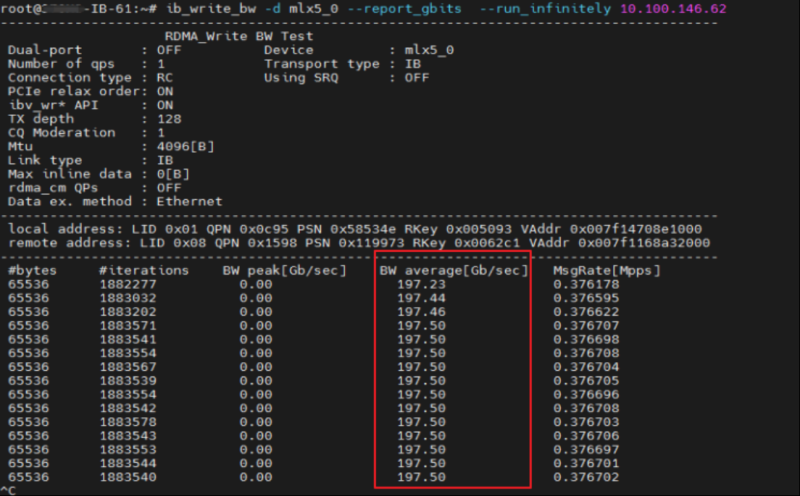 Figure 2 QSFP56 to QSFP56 InfiniBand HDR AOC Cable Bandwidth test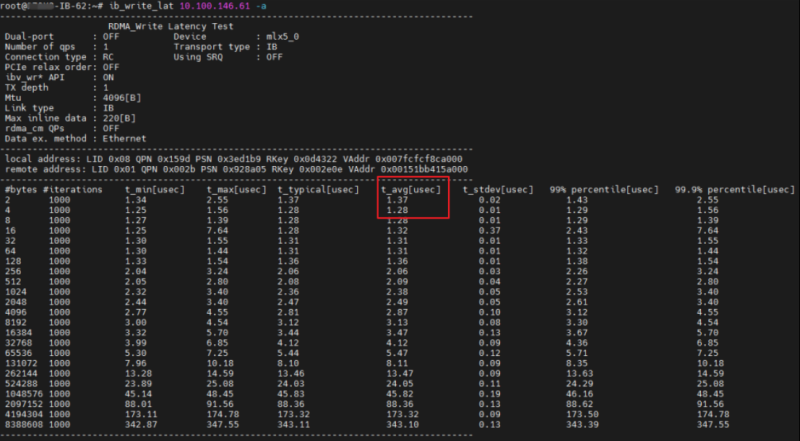 Figure 3 QSFP56 to QSFP56 InfiniBand HDR AOC Cable Latency test
Low Bit Error Rate
Because InfiniBand achieves the highest level of data integrity by performing cyclic redundancy checks (CRC) at every hop and end-to-end on the fabric, NADDOD provides InfiniBand cables that ensure proper data transmission with zero packet loss and low bit error during transmission.
High Adaptability
NADDOD provides InfiniBand products that have been tested in real systems and fully meet the demanding requirements of Infiniband for optical connectivity, which are characterized by good stability and high reliability, and can be perfectly adapted to NVIDIA switches and NICs.
5. Summary
With the growing development of machine learning and HPC clouds, customers' requirements for network performance have reached the ultimate. The high performance, network computing power and network self-healing capability of InfiniBand HDR 200Gb/s interconnect solutions are the key technologies for future intelligent cloud computing centers. NADDOD 200G AOC products provide a low-cost, low-power, high-density, high-speed next-generation solution for data center and 200Gb/s InfiniBand HDR applications.