Introduction to 400G Optical Transceivers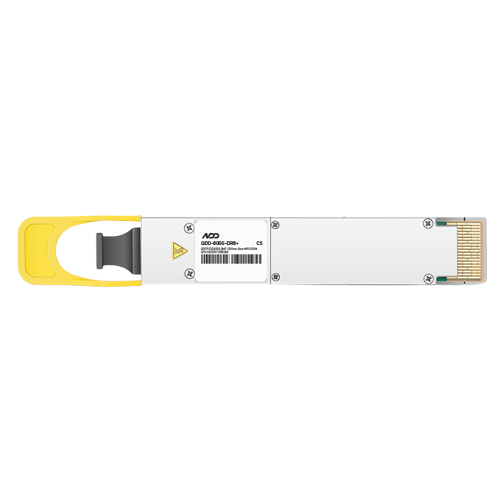 Peter
Optics Technician
Jul 26, 2023
400G optical transceivers are advanced products in the field of high-speed transmission and are widely used in high-performance data centers, communication networks, large-scale computing, cloud computing, and other fields.
This article provides a detailed introduction to the definition, technology, product models, application scenarios, and future development direction of 400G optical transceivers.
1. What are 400G Optical Transceivers?
400G optical transceivers refer to optical module products with a transmission rate of 400Gbps. The mainstream packaging type is QSFP-DD (Quad Small Form-factor Pluggable Double Density), which is a high-speed optical transceiver interface specification and an upgraded version of the QSFP interface, supporting high-speed transmission of 400G. Using optical fibers as the signal transmission medium, they convert digital signals into optical signals and transmit them through the optical fibers.
2. Technology of 400G Optical Transceivers
The technology of 400G transceivers encompasses several key aspects, including PAM4 modulation technology, COB packaging technology, DSP digital signal processing technology, microwave integrated circuit technology, and high-speed electrical interface technology.
PAM4 Modulation Technology
It is the core technology that enables high-speed transmission in 400G optics. It utilizes 4-level pulse amplitude modulation, expanding the traditional binary digital signal modulation to 4 levels, achieving a transmission rate of 400Gbps.
COB (Chip on Board) Packaging Technology
It is a novel packaging technique where the chip is directly mounted on the substrate without the need for an external package. This approach enables higher signal transmission rates and smaller form factors.
DSP (Digital Signal Processing) Technology
It is employed in 400G transceiver for signal processing and decoding. It enables operations such as modulation, demodulation, and error correction on the optical signal, thereby improving the transmission rate and signal quality of the optical transceiver.
Microwave Integrated Circuit Technology
It is a high-frequency circuit design technique that integrates multiple circuits onto a single chip. It enables the design of high-speed, low-power, and compact high-frequency circuits.
High-speed Electrical Interface Technology
It pertains to the connection between 400G optical transceivers and external devices. It encompasses various interface types such as QSFP-DD, OSFP, and others, facilitating connectivity and data transmission between different devices.
These technological advancements in 400G optical transceiver contribute to their high-speed transmission capabilities, compact designs, and improved signal quality. As the demand for faster and more efficient data transmission continues to grow, further advancements in these technologies are expected to drive the development of next-generation optical transceivers.
3. Types of 400G Optical Transceivers
Based on different specifications and interface types, 400G optical transceivers can be classified into several types, including SR8, DR4, FR4, LR4, LR8, and ER4.
Among them, SR8 is suitable for short-distance data transmission, DR4 is suitable for medium-distance data transmission, FR4 is suitable for long-distance data transmission, LR4 is suitable for ultra-long-distance data transmission, LR8 is suitable for even longer distance data transmission, and ER4 is suitable for extremely long-distance data transmission.
| | | | | |
| --- | --- | --- | --- | --- |
| Type | NADDOD Model | Packaging | Distance | Connector |
| 400G-SR8 | | QSFP-DD | 100m | MPO |
| 400G-DR4 | | QSFP-DD | 500m | MPO |
| 400G-FR4 | | QSFP-DD | 2km | LC |
| 400G-LR4 | | QSFP-DD | 10km | LC |
| 400G-LR8 | | QSFP-DD | 10km | LC |
| 400G-ER4 | | QSFP-DD | 40km | LC |
| 400G-ZR | | QSFP-DD | 80km | LC |
The aforementioned types are commonly seen in the market for 400G transceivers. With the continuous advancement of technology, it is possible that new models will emerge in the future.
4. Applications of 400G Optical Transceivers
400G optical transceivers are suitable for various applications, including broadband access, broadband networks, data center interconnects, and cloud computing, among others. In the context of data centers, with the development of cloud computing and big data technologies, there is an increasing demand for scalability, reliability, and low latency. 400G optical transceivers can meet these requirements. Additionally, they are also applicable in high-speed and long-distance transmission scenarios.
5. Future Development Direction
As the demand from data centers, enterprise networks, and telecommunications operators continues to grow, the market for 400G optical transceivers will continue to expand. With ongoing technological advancements, the cost of 400G optical transceivers will decrease while their performance will improve. In the future, the application scope of 400G optical transceivers will further expand to include areas such as the Internet of Things (IoT) and 5G networks.
6. NADDOD Optical TransceiverProvider
NADDOD is a leading provider of comprehensive optical networking solutions, dedicated to building a connected and intelligent world through innovative computing and networking solutions. NADDOD continuously delivers innovative, efficient, and reliable products, solutions, and services to users, offering optimal switch+AOC/DAC/optical transceiver+smart NIC+DPU+GPU integrated solutions for data centers, high-performance computing, edge computing, artificial intelligence, and other application scenarios. These solutions significantly enhance customer business acceleration capabilities with low cost and outstanding performance.
As 400G optical transceivers are the future trend in network development, NADDOD is committed to providing customers with high-quality and high-performance optical transceiver products, including 400G optical transceivers, 200G optical transceivers, 100G optical transceivers, and more. This enables customers to better meet the ever-changing market demands. Additionally, NADDOD has obtained various international certifications, including ISO9001, CE, FCC, RoHS, and more. Their products are exported worldwide and highly trusted by customers.