Everything You Should Know About 100G SWDM4 Optical Transceivers

Jason
Data Center Architect
Dec 30, 2022
With the advent of the information age, the demand for information transmission channel capacity has skyrocketed and many enterprise data centres are facing the problem of upgrading their optical infrastructure. Most enterprises have deployed a large number of 10G Ethernet or optical infrastructures over the past decade or more and now want to upgrade 10G Ethernet to 40G or 100G, which obviously requires an increase in the amount of fibre optic cabling deployed and the costs involved are significant.

However, SWDM technology uses proven multimode lasers to transmit 40G (4x10G) and 100G (4x25G) over duplex multimode fibre, meaning that data centres can be upgraded from 10/25G to 40G/100G without changing the cabling infrastructure, significantly reducing the capital expenditure on new cabling infrastructure, making SWDM optical transceivers a great solution for enterprise data centre deployments This makes SWDM optical transceivers a very cost-effective new solution for the deployment of 40G and 100G Ethernet in enterprise data centres. Here we take a look at the 100G SWDM4 optical transceiver.

SWDM (Short Wavelength Division Multiplexing) refers to short wavelength division multiplexing technology. The principle of WDM is similar to CWDM on single mode, but SWDM is the first application of WDM technology on the short wavelength band of multimode fibres. SWDM is the first application of WDM technology to the short wavelength band of a multimode fibre. The combined splitting is achieved by MUX/DMUX, which transmits four bands of optical signals on a single core of multimode fibre. The windows of the four bands are 850nm, 880nm, 910nm and 940nm respectively.

The 100G QSFP28 SWDM4 optical transceiver uses a multimode duplex LC interface and requires only 2 cores of fibre, which can be used with traditional OM3 and OM4 infrastructures and can transmit up to 70m when used with OM3 fibre patch cables; up to 100m when used with OM4 fibre patch cables; up to 150m when used with OM5 fibre patch cables, providing users with a high-speed and The working principle is as follows.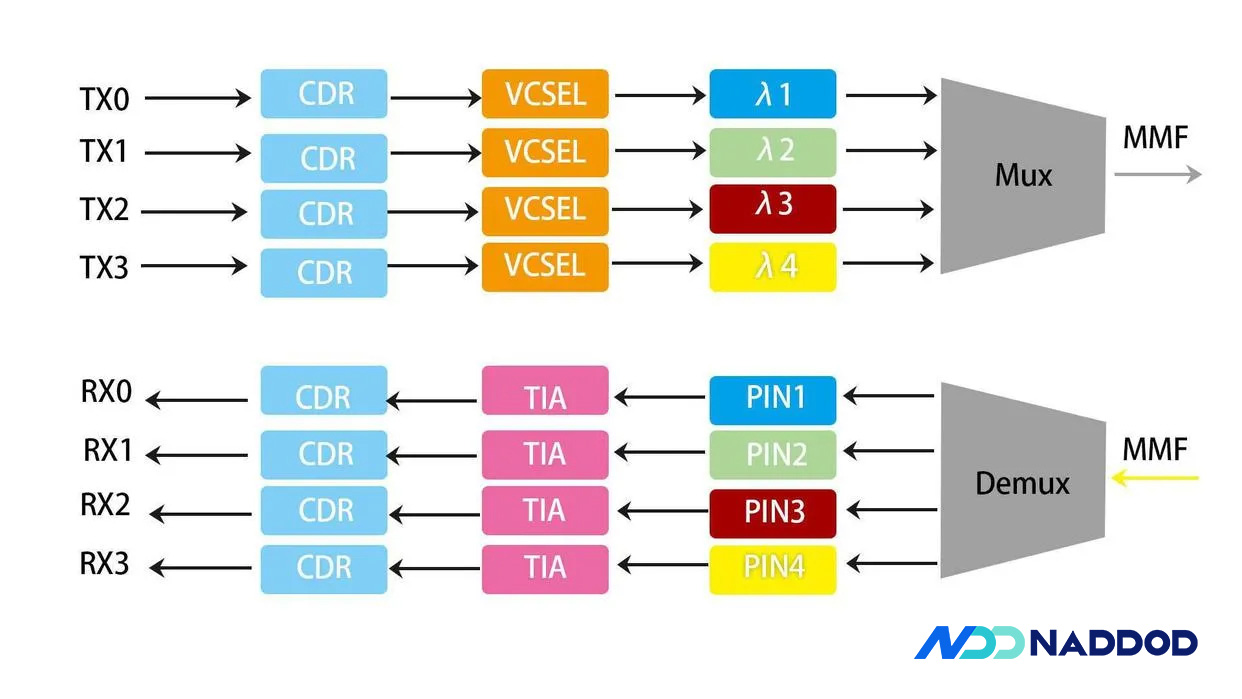 As SWDM technology can reduce the number of fibres by 75% to achieve the same level of 100G rates, it can reduce cable management and be used for higher density applications. Secondly, SWDM technology can support longer transmission distances using WBMMF fibres up to 300m, which is suitable for most data centre backbone distance requirements. This makes the 100G SWDM4 optical transceiver a very promising application.