NADDOD High-Performance Campus Network Solution
With the development and changes of IT infrastructure and mobile Internet, in order to achieve more convenient network management and higher network security, NADDOD provides campus network solutions for education, healthcare, enterprises and other industries. Based on hierarchical and modular design, equipment deployment is carried out according to the access layer-aggregation layer-core layer, which solves the problems of the campus network from deployment to use, from management to operation and maintenance. With high cost effectiveness, it helps users easily build a campus network with Gigabit access, 10 Gigabit interconnection, stability, reliability, and simplified management.
NADDOD Typcial Campus Network Solution
Core Layer
The core switch uses two NADDOD N6100-48X8C high-performance core Ethernet switches to ensure high-speed network communication. Through link aggregation (LACP) technology, two switches are connected through an M-LAG link in the middle, so that they are logically like a device, and the ports on the two devices together form an aggregation port, so that all ports can jointly participate in the forwarding of data traffic. Improve network performance and ensure high reliability and stability of the core layer services.

Aggregation Layer
The aggregation layer is a link between the core and the access. By aggregating several access devices and services and then transferring them to the core layer, the requirements for access capabilities of the core layer can be reduced, allowing the core layer to focus on high-speed business forwarding. NADDOD adopts S4600-24X2C switch in the aggregation. It supports rich three-layer services, M-LAG, and reduces network layers through virtualization technology between core/aggregation layer devices, ensuring redundancy and providing load balancing, and realizing high availability of the network.

Access Layer
The access layer is the network closest to end users, providing users with various access methods. In addition to rich Layer 2 features, the access layer also needs to deploy related functions such as security and reliability. For non-PoE devices, the camputs network can use NADDOD S2200-24T4X/S2200-48T4X series switches, which support rich Layer 2/Layer 3 functions. Models with different port numbers are for choices according to the number of terminal devices. For PoE devices, S3200P-24T4X/S3200P-48T4X series switches can be used, which support intelligent power over Ethernet and support stacking, and can provide power for devices such as wireless access points (WAP) and IP cameras.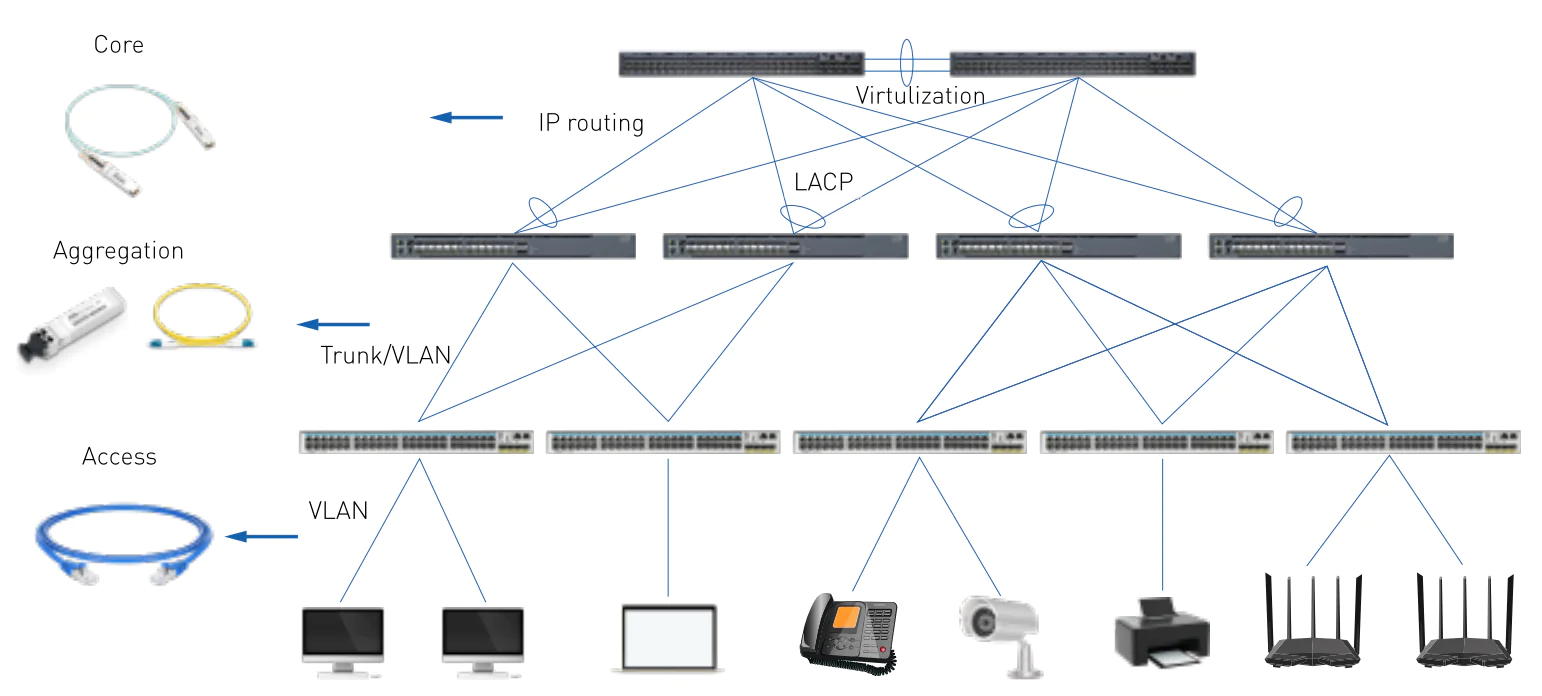 NADDOD Typcial Campus Network Solution Advantage
Hierarchical Structure
The core layer, aggregation layer, and access layer are stable and expandable, and meet the needs of sorting services and access specifications.

High Reliability
The M-LAG virtualization technology is used to simplify the network architecture, and the core business equipment and links are deployed redundantly to ensure the stable operation of production services and build a highly reliable and stable network architecture.

High-performance Equipment
High-performance, high-expandability equipment, and multi-port rate form combination are adopted to meet future business expansion needs.
Solution Products
| | | |
| --- | --- | --- |
| Product Name | Product Type | Product Specification |
| N6100-48X8C | High-performance Ethernet Layer 3 Switch | 48-Port Ethernet L3 Switch, 48x 10Gb SFP+ , with 8x 40Gb/100Gb QSFP28, Support MLAG, Support VXLAN |
| QSFP-100G-A5 | 100G Active Optical Cable | 100G QSFP28 Active Optical Cable |
| S4600-24X2C | Ethernet Layer 3 Switch | 24-Port Ethernet L3 Switch,24x 1/10Gb SFP with 2x QSFP28/QSFP+ Uplinks, Support Stacking |
| SFP-10G-LR | 10G SMF Transceiver | 10GBASE-LR SFP+ 1310nm 10km DOM Duplex LC Transceiver Module for SMF |
| S2LCUD | SMF OS2 Fiber Patch Cable | 30m LC UPC to LC UPC Duplex OS2 Single Mode PVC (OFNR) 2.0mm Fiber Optic Patch Cable |
| S2200-48T4X | Gigabit Ethernet Switch | 48-Port Gigabit Ethernet L3 Switch, 48x GigabitRJ45, with 4x 10Gb SFP+, Support MLAG, Support Stacking |
| S3200P-48T4X | Gigabit Ethernet Switch | 48-Port Gigabit Ethernet L2+ POE+ Switch, 48xPoE+ Ports@1440W with 4x 1/10Gb SFP+, Support Stacking, Support 802.3af/at |
| S3200P-24T4X | Gigabit Ethernet Switch | 24-Port Gigabit Ethernet L2+ POE+ Switch, 24xPoE+ Ports @720W,with 4x 1/10Gb SFP+, Support Stacking, Support 802.3af/at |
| SG-C6UTPPVC24 | Cat6 Copper Patch Cable | 10m Cat6 Snagless RJ45 Unshielded (UTP) PVC CM Ethernet Patch Cable, 24AWG 100% Copper Wire Blue |
Customer Benefits
Ultra High Fusion
Through flexible logic isolation, one network realizes full-scenario access such as office, production, and security, and provides integrated and efficient access capabilities.

High Bandwidth Availability
The core supports smooth upgrade from 40G to 100G; aggregation supports high-density 10G capacity and high-performance stacking; Gigabit/10GbE access speed.

Cost-Effective
The product line has industry-leading technological advancement, and the self-developed products have super high cost-effectiveness.

Excellent Supply Chain Guarantee
Goods and services can be shipped and delivered to customers to ensure that the customer's business can start or upgrade in a timely manner.