What Is Passive Optical Network (PON)?

Jason
Data Center Architect
Dec 12, 2022
PON (Passive Optical Network) is a point-to-multipoint passive fiber access technology, originated in the 1990s. ITU-T G.982 gives the reference of PON function configuration, mainly containing three basic functional parts: Optical Line Terminal (OLT), Optical Network Unit (ONU), and Optical Distribution Network (ODN).

The functions of the three parts are as follows:

OLT: Optical Line Terminal, which is simply understood as the "upstream" operator-side device of optical network transmission. It is used to communicate with the ONU on the user side through one or more ODN optical fiber distribution networks. The OLT and the ONU have a master-slave communication relationship. OLT manages to signal and monitoring information from the ONU; OLT equipment is generally deployed in the operator base station, or service node room.

ONU: Optical Network Unit, located between the ODN fiber distribution network and the user, is a user-side device responsible for receiving data sent by the OLT and providing services directly to the user. The network side of the ONU has an optical interface, while the user side is an electrical interface.

ODN: Optical Distribution Network, a transmission facility in a fiber optic access network, i.e. fiber optic network which provides optical transmission channels for ONU and OLT as the physical connection. The ODN contains optical fiber, an optical cross-connect cabinet, optical connector (mainly for fiber pigtails), a passive optical branching device (OBD) and fiber optic connector. These components of fiber optic networks are composed of passive optical devices, which is also the origin of the name PON.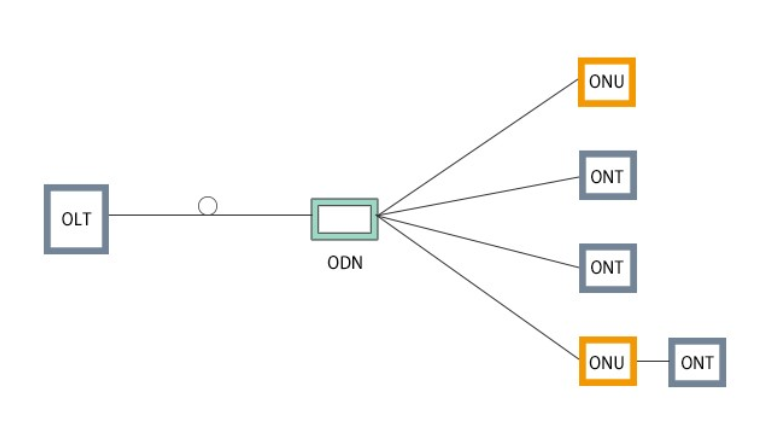 PON Network Architecture
PON has evolved at a different time with various technical solutions. According to the different technologies, PON can be divided into different types.

APON, a passive optical network based on ATM (Asynchronous Transfer Mode) technology, was later renamed as Broadband Passive Optical Network (BPON).
EPON, an Ethernet-based passive optical network.
GPON (Gigabit Passive Optical Network), is an extension of BPON.

PON technologies in wide use include EPON and GPON, as well as 10G-EPON and XG-PON. Although there are great differences between different PON technologies, from the user's point of view, the main differences are line speed, available bandwidth and working wavelength.



EPON Technology Features
Low Operation Cost and Simple Maintenance: passive devices are easy to lay and simple to maintain, saving long-term operating and management costs.
High Transmission Rate: EPON currently can provide symmetric 1.25G upstream and downstream rates and can be upgraded to 10G and 25G/50G in the future.
Large Service Area and Easy to Expand: as a point-to-multipoint network, EPON can serve a large number of end users by using a single optical module and fiber resource at the central office, and the network is easy to expand.
GPON Technology Features
Full Service Access Capability: it can provide full service access capability including E1 circuit service, ATM service, CATV, etc. It can provide integrated access service for voice, data and video.
Higher Bandwidth and Longer Range Coverage: up to 128 ONUs can be supported and the longest transmission distance can reach 60 km.
Flexible Bandwidth Allocation.
Quality of Service Guaranteed and High Security.

GPON and EPON have different scopes of application. From the performance indicators, GPON is better than EPON, but EPON has the advantages of time and cost. There is an overlap between them in terms of application scenarios. The future broadband access market may not be dominated by one of them, but would be coexisting and complementary. EPON and GPON have different market applications because of their different technical characteristics. EPON is suitable for cost-sensitive customer groups with low QoS, security requirements, and Internet access applications; GPON is more suitable for customers using ATM technology as backbone with high requirements for bandwidth, service, QoS, security. It is also suitable for full-service operation and tri-networks integration applications.
The Advantages of Passive Optical Network
As an access network technology, PON has been commercially deployed for more than 15 years with the maturity of related technologies and equipment models. Compared to traditional Ethernet, PON has accumulated a wealth of experience in construction, implementation, operation and maintenance, it has certain advantages in media cost, resource utilization, space occupation and so on.
Lower Cost: the PON structure requires no power in transmission and has no electronic components, so it is easy to lay. It is also essentially maintenance-free, which can result in significant savings in long-term operating costs and management costs.
Pure Fiber Media Network: using a pure fiber media network prevents lightning and electromagnetism interference. As a result, PON are appropriate for harsh environments.
Low Occupancy of Central Office Resources: low initial investment and high rate of return.
High Bandwidth: EPON/GPON is upgrading to 1G/2.5G -10G -25/50G with the development rate of Ethernet technology.
Wide Range of Services: PON uses a point-to-multipoint access model, so the infrastructure cost of laying fiber between the central office and users is shared by users, which can improve the return on network construction investment. A PON device that provides service for the same number of customers is smaller and takes up less space in the central office than a method that configures end-to-end fiber for each user.
Flexible Bandwidth Allocation and Guaranteed Quality of Service (QoS): G/EPON system has a complete system for bandwidth allocation and guarantee, which can realize SLA (Service Level Agreement) at user level.
The Development Trend of PON Optical Transceiver
PON equipment port revenue is expected to grow at a 12.3% CAGR (Compound Annual Growth Rate) between 2020 and 2027, to reach $16.3 billion by 2027, well above the $8.2 billion in 2020, according to Omdia, a leading global research firm in its fiber and copper access equipment forecast report in February 2022.

Both EPON and GPON are 1Gbps PON. They are moving towards 10Gbps, and 10Gbps is not the end of PON technology. With the higher network speed requirement of 25G/50G/100G, the PON transceiver speed will also increase.

Upgrade Path

GPON: GPON → 2nd generation: XGPON (asymmetric)/XGS PON (symmetric) → 3rd generation: NG-PON2
EPON: EPON → 2nd generation: 10G EPON → 3rd generation: NG-EPON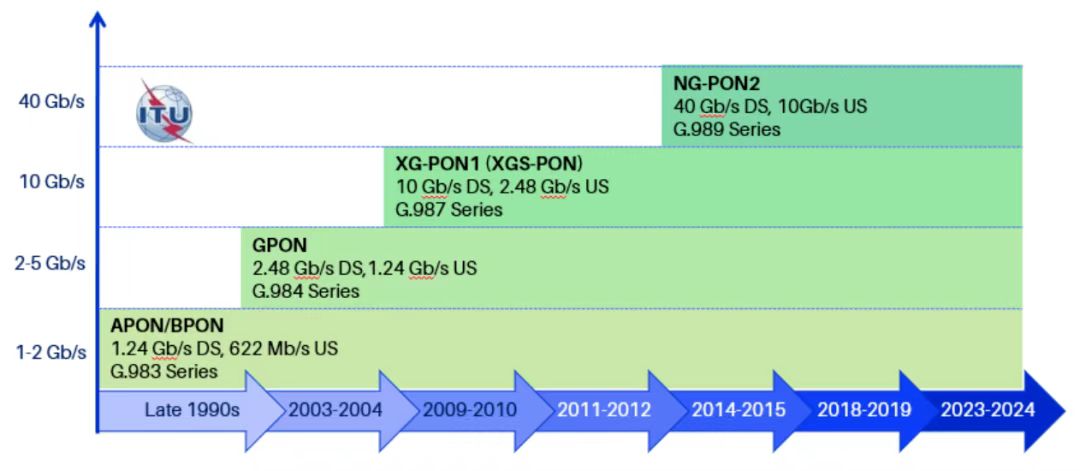 Since the initial GPON deployment is much wider than the EPON, the upgrade route will still be XGPON/XGS PON wider than 10G EPON and NG-PON2 wider than ng-EPON.
From the longitudinal perspective of PON: first, the rate is constantly improving from 1G/2.5G-10G upgrade to 25/50G PON; secondly, the continuous extension of the node. From FTTB (fiber to the building), evolved into FTTH (fiber to the home), and now FTTR (fiber to the room), and possibly FTTT (fiber to the table) in the future. FTTR's user account is currently small, accounting for 1% of FTTX's total users in 2022. China is the main market for FTTR, with more than 60 cities deploying FTTR in the first half of this year.

With the popularization of broadband service and the improvement of PON technology, the application of optical fiber access is more and more extensive. Compared with the traditional optical transceiver, the optical signal transmission mode of PON optical transceiver is point-to-multipoint (P2MP) and the transceivers are not used in pairs. It is mainly used in access network, PON technology can save a lot of cable resources, so PON optical transceiver is one of the indispensable components of fiber to the home.
NADDOD's PON Optical Transceiver Products
As a pioneer supplier of optical network solutions, NADDOD can provide a full range of PON optical transceivers such as EPON, GPON/XG PON/XGS PON for fiber access networks, which can provide bi-directional high bandwidth capability under long distance transmission conditions and support a variety of application scenarios.
At present, NADDOD can provide various PON optical transceivers to meet different needs.




NADDOD 1G/10G series PON optical transceivers use mature chip and optical transmission technology to provide high-quality PON network connectivity for various communication environments such as FTTx networks and 5G wireless networks while having the following distinct advantages.
Performance Index: higher output power and receiver sensitivity to meet the ever-increasing system link budget requirements.
Stability: stable output power during transmission to avoid uplink interference and improve bandwidth efficiency.
Quality Assurance: each product is thoroughly tested to ensure perfect operation.
Reliability: all PON series optical transceivers are certified by international QM such as IEEE 802.3, ITU-TG.984.x, and Multi-Source Agreement (MSA).