How 25G Optical Transceivers Are Used in 5G Networks

Jason
Data Center Architect
Jan 16, 2023
With the accelerated pace of commercial deployment of 5G, the number of new 5G base stations built by domestic operators will increase day by day. It is crucial to choose the right front transmission technology to meet the demand for differentiated 5G multi-service applications, and how to meet the multi-state 5G front transmission has become the focus of the industry.

In this article, we will analyze why 25G optical modules are needed for 5G forward transmission, how big the market for 25G optical modules, and what solutions are available for 25G optical modules for 5G forward transmission. What are the solutions for 5G forward 25G optical modules?

To meet the needs of eMBB, URLLC, and mMTC scenarios, 5G wireless communication requires higher spectrum resources. To meet the maximum bandwidth of 100Mbit/s supported by 5G spectrum, with 64 channels, CPRI protocol forward channels of at least 100Gbit/s are required. But until 2017, the industry's 100Gbit/s optical modules were not yet ready. And that's when Enhanced CPRI (eCPRI) was created to solve the problem at that time.

The eCPRI protocol defines a variety of splitting modes, with interfaces at higher protocol layers requiring only lower transmission bandwidth. In the dominant splitting scheme, some physical layer signal processing functions are transmitted from the baseband to the antenna side at a rate of only 25 Gbit/s from the front pass interface.

In short, eCPRI is about significantly reducing the interface rate requirements between the BBU and the RRU by moving the Low-PHY into the RRU part of the DU. This is an important reason why 25G optical modules are needed.

Considering that the low and medium frequency bands in the wireless spectrum are already crowded, 3GPP has allocated higher frequency bands for 5G. However, this has resulted in higher signal losses. To ensure good communication quality, 5G base stations have to be built at a higher density than 4G and require higher optical modules.
According to LightCounting forecasts, demand for 25G optical modules will increase significantly over the next five years, accounting for more than 50% of 5G forward transmission optical modules.

25G optical modules are used in 5G forward transmission on a large scale. Therefore, leveraging the resources available in the 25GE Ethernet industry can help telecom operators significantly reduce costs and improve the efficiency of their optical solutions. The use of 25Gbps eCPRI interfaces is currently preferred in 5G forwarding, with latency requirements below 100s.

The main 5G front-end bearer solutions include traditional direct fiber solutions, active WDM/OTN solutions, passive WDM solutions, and semi-active WDM solutions.

Fiber Direct Drive Solution
Two-fiber Bi-directional Transmission: 25G Grey Optical Module
For 5G forward fiber direct drive, the DU is directly connected to the AAU, and each AAU needs to connect two fibers to the DU for transceiving, using a total of 6 fibers and 12 25G grey modules. This solution is only suitable for short-range D-RAN scenarios. At present, 25G grey optical modules are available in mass production from all mainstream module manufacturers, and the products have matured at a lower cost.

However, this solution consumes more fiber resources.

Single-fiber Di-directional Transmission: 25G BIDI Optical Module
To save fiber resources, a 25Gbps BIDI solution can be used, where AAU and DU bi-directional signals of different wavelengths are transmitted in one fiber, which can save half of the fiber resources. However, for 5G scenarios, the fiber resource consumption is still too much and places higher demands on the DU side of fiber management.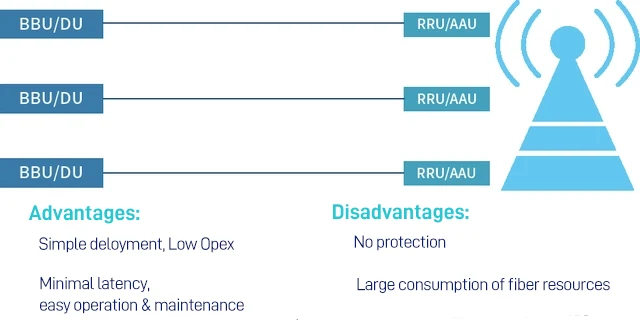 Active WDM/OTN Solutions
25G Grey Optical Module
For C-RAN scenarios where core resources are tight, an active point-to-point WDM/OTN solution can be used to effectively reduce fiber costs by introducing new active WDM/OTN equipment or using old 4G WDM/OTN equipment to carry transmission over distances up to 10km over a single fiber.

The solution introduces two WDM/OTN devices, OTN can provide rich operation management and maintenance (OAM) and fault diagnosis functions, AAU and outdoor WDM/OTN equipment, DU and access WDM/OTN equipment still need to connect through six fibers each, but due to the shorter distance, core resources are lower, and only 24 25G grey optical modules are required, no color optical modules are needed. OTN bearing solution has more protection technology, but the equipment cost is high, and the net investment is large.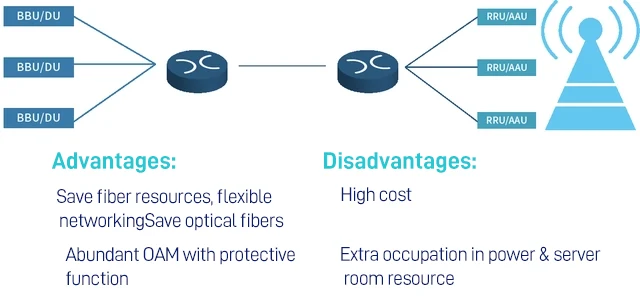 Passive Point-to-Point WDM Solution
25G Colour Optical Module
The passive WDM solution adopts a passive combiner splitter with color optical direct drive, 25G color optical module on DU and AAU, configure optical combiner splitter and optical splitter and multiplexer respectively in DU front-end and AAU node, using WDM technology can significantly reduce fiber resource consumption. WDM equipment will not introduce time delay when transmitting forward business, but the wavelength of AAU and DU is point-to-point on physical layer connection, requiring complex wavelength planning. The direct use of colored optical modules in AAU base stations places demands on base station management and power budgets are key metrics to consider.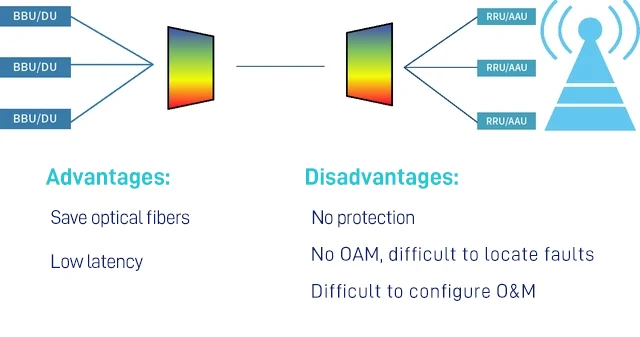 Semi-Active WDM Solutions
25G Colour Optical Module
The semi-active WDM solution is passive on the AAU side and active on the DU side. 25G color light modules are used on the AAU side and transmitted in a single fiber after a passive WDM; active WDM equipment is used on the DU side to forward the forward color light signals and to operate and maintain the AAU color light modules. Although this solution balances the need to save fiber resources with proper O&M, it still places demands on the AAU base station management, and the power budget of the color light module remains a key indicator.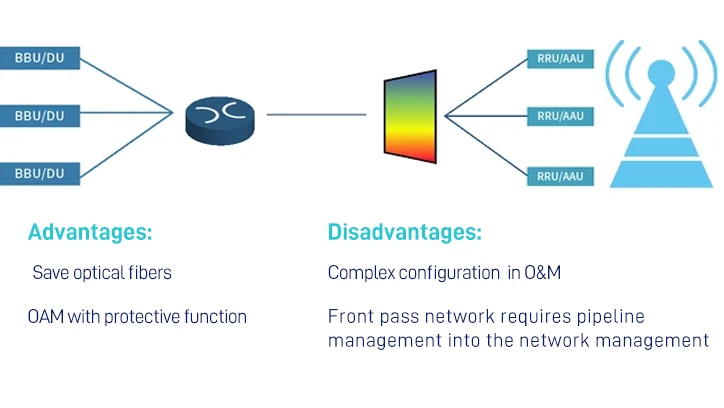 With the demand for large-scale 5G station construction, direct-drive solutions are rarely used to save fiber resources, and WDM solutions are becoming dominant. For this reason, various WDM solutions have been proposed by different organizations, among which are CWDM, MWDM, LWDM, and DWDM standards.