200G QSFP56 InfiniBand HDR to 2xQSFP56 HDR100 Breakout AOC

Abel
InfiniBand Expert
Feb 1, 2023
Features
Supports IBTA InfiniBand HDR
200Gb/s HDR to 2x100Gb/s HDR100 data rate
4x 50Gb/s PAM4 modulation
Programmable Rx output amplitude and pre-emphasis
SFF-8665 compliant QSFP56 port
Single 3.3V power supply
4.35W power dissipation (typ., 200G end)
Bit Error Rate (BER) 1E-15 with InfiniBand systems
Up to 100m length
0 to 70°C case temperature operating range
Hot pluggable
RoHS compliant
SFF-8636 compliant I2C management interface
Description
Q2Q56-200G-AOCH is a QSFP56 VCSEL-based (Vertical Cavity Surface-Emitting Laser), costeffective 200Gb/s to 2 x 100Gb/s active optical splitter cable (AOC) designed for use in 200Gb/s InfiniBand HDR (High Data Rate) systems.

The Q2Q56-200G-AOCH cable is compliant with SFF-8665 for the QSFP56 pluggable solution. It provides connectivity between system units with a 200Gb/s connector on one side and two separate 100Gb/s connectors on the other side, such as a switch and two servers. The cable connects data signals from each of the 4 MMF (Multi Mode Fiber) pairs on the single QSFP56 end to the dual pair of each of the QSFP56 multi-port ends. Each QSFP56 end of the cable comprises an EEPROM providing product and status monitoring information, which can be read by the host system.Rigorous production testing ensures the best out-of-the-box installation experience, performance and durability.

NADDOD's unique quality active fiber cable solutions provide power-efficient connectivity for data center interconnects. They enable higher port bandwidth, density and configurability at a low cost, and reduced power requirement in the data centers.

Absolute Maximum Ratings
Table1-Absolute Maximum Ratings
| Parameter | Symbols | Min. | Typical | Max. | Unit | Notes |
| --- | --- | --- | --- | --- | --- | --- |
| Supply Voltage | Vcc3 | -0.3 | - | +3.6 | V | |
| Storage Temperature | Ts | -40 | - | +85 | ºC | |
| Operating Humidity | RH | +5 | - | 85 | % | 1 |
| Data input voltage | Vcc | -0.3 | - | 3.465 | V | |
| Control input voltage | Vcc | -0.3 | | 4.0 | V | |
Note:
[1]No condensation
Recommended Operating Conditions
Table2-Recommended Operating Conditions
| Parameter | Min. | Typical | Max. | Unit | Notes |
| --- | --- | --- | --- | --- | --- |
| Operating Case Temperature | 0 | - | +70 | ºC | |
| Power Supply Voltage | 3.14 | 3.3 | 3.47 | V | |
| Power dissipation(200G re-timing on all lanes) | - | 4.35 | 4.55 | W | 200G end |
| Power dissipation(100G re-timing on all lanes) | - | 2.5 | 2.75 | W | 100G end |
| Supply noise tolerance (10Hz-10MHz) | 66 | | | mVpp | |
| Operating relative humidity | 5 | | | 85 | % |
Mechanical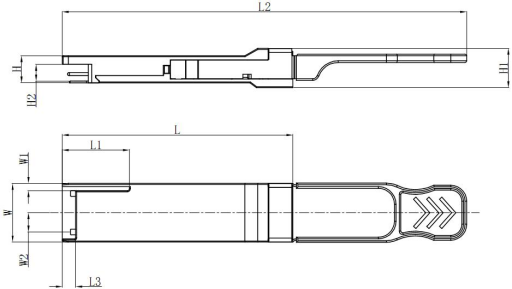 Figure 1 Mechanical Diagram





Figure 2 Mechanical Diagram of Cable
Regulatory Compliance
Table3-Regulatory Compliance
| Parameter | value | Units |
| --- | --- | --- |
| Diameter | 3±0.2 | mm |
| Minimum bend radius | 30 | mm |
| Length tolerance | 1 m ≤ length < 5 m:     +300mm / -0 | m,mm |
| Length tolerance | 5 m ≤length <50 m:    +500mm / -0 | m,mm |
| Length tolerance | Length ≥ 50 m          +1000mm / -0 | m,mm |
| Cable color | Aqua | Aqua |
Part Numbers and Descriptions
Table4-Part Numbers and Descriptions
| Part Number | Description |
| --- | --- |
| Q2Q56-200G-A3H | Active fiber splitter cable, IB HDR, 200Gb/s to 2x100Gb/s, QSFP56 to 2xQSFP56, LSZH, 3m |
| Q2Q56-200G-A5H | Active fiber splitter cable, IB HDR, 200Gb/s to 2x100Gb/s, QSFP56 to 2xQSFP56, LSZH, 5m |
| Q2Q56-200G-A10H | Active fiber splitter cable, IB HDR, 200Gb/s to 2x100Gb/s, QSFP56 to 2xQSFP56, LSZH, 10m |
| Q2Q56-200G-A15H | Active fiber splitter cable, IB HDR, 200Gb/s to 2x100Gb/s, QSFP56 to 2xQSFP56, LSZH, 15m |
| Q2Q56-200G-A20H | Active fiber splitter cable, IB HDR, 200Gb/s to 2x100Gb/s, QSFP56 to 2xQSFP56, LSZH, 20m |
| Q2Q56-200G-A30H | Active fiber splitter cable, IB HDR, 200Gb/s to 2x100Gb/s, QSFP56 to 2xQSFP56, LSZH, 30m |
Warnings
Handling Precautions: This device is susceptible to damage as a result of electrostatic discharge (ESD). A static free environment is highly recommended. Follow guidelines according to proper ESD procedures.
Laser Safety: Radiation emitted by laser devices can be dangerous to human eyes. Avoid eye exposure to direct or indirect radiation.



Related Resources:
Datasheet: 200G QSFP56 InfiniBand HDR to 2xQSFP56 HDR100 Breakout AOC
NADDOD 200G InfiniBand HDR AOC vs OEM
200G HDR Optics Products Application Scenarios
NADDOD 200G InfiniBand Cable Products Introduction
NADDOD 200G InfiniBand Optical Transceiver Products Introduction